---
Whether you're a homeowner living in an overpriced apartment in a metropolitan area or a new parent in a condo, you know the struggle with tiny and cramped rooms.
A simple sofa, coffee table, and a work desk fill up your small living space, making you feel constricted in your own home. Add a few basic furnishings such as a media stand, chairs, and lights to make your living room feel cozier, and you'll find yourself tripping over objects.
If your living room is cluttered and cramped, the last thing you'll want to do is spend time there.
What if there's a way to make your room feel larger? Spacious, comfortable, and welcoming?
It doesn't take a rocket scientist to implement a few smart styling strategies to transform your small quarters into an inviting oasis.
Follow these 5 simple steps to increase your living space in an INSTANT.
---
1. Add mirrors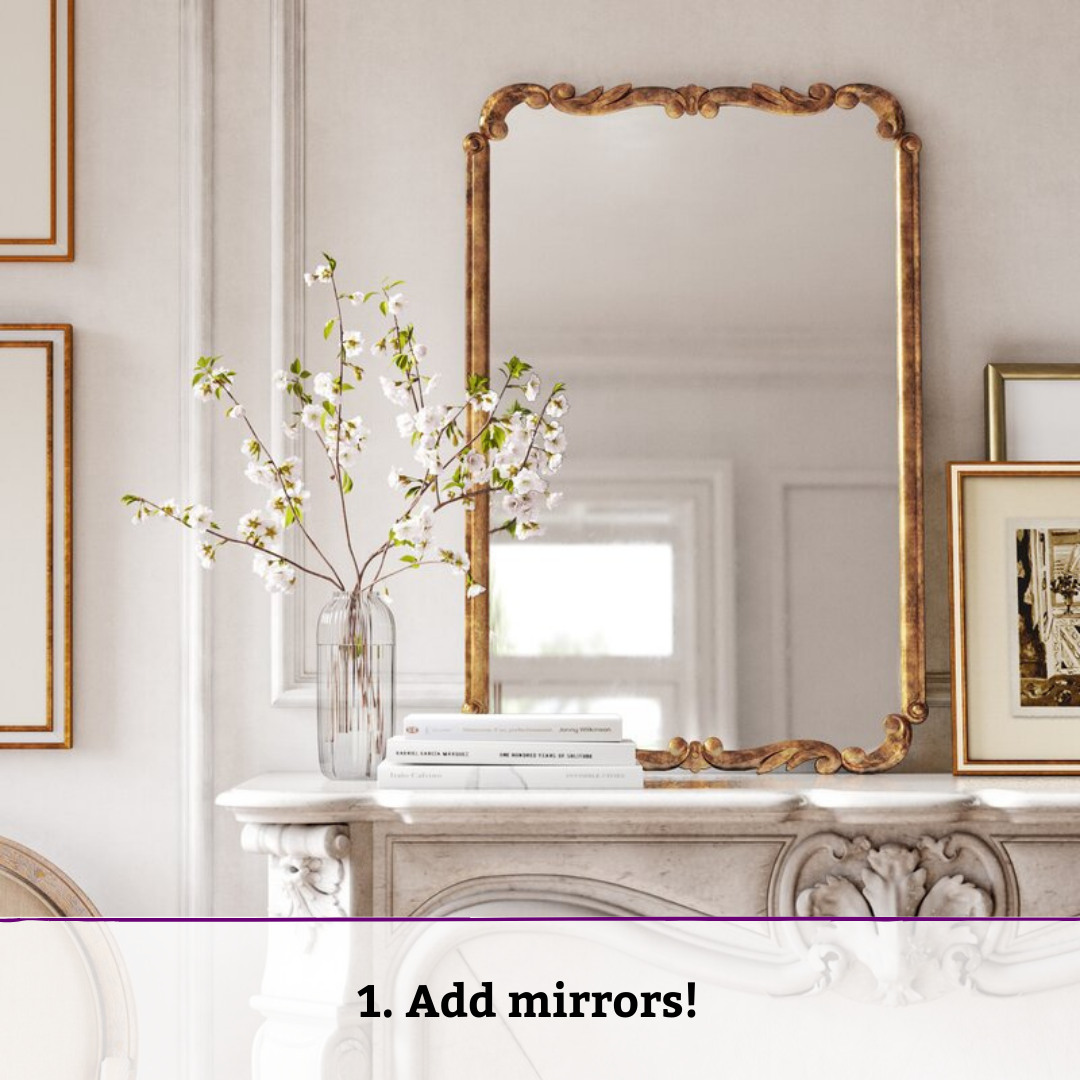 Did you know mirrors can be more than grooming assistants?
When placed strategically, mirrors can visually increase your small space! Their reflective properties can trick the eye into perceiving more space (think about infinity mirror rooms! It makes you feel like you're in space because the room seems endless).
Placing a mirror on the wall will quickly add dimension to your quarters. Setting a mirror near light sources will illuminate your whole space. On the other hand, establishing a framed mirror over a fireplace will create a focal point for the room. Any clutter and tightness will be less noticeable with a focal point.
---
2. Opt for a low-profile sofa and coffee table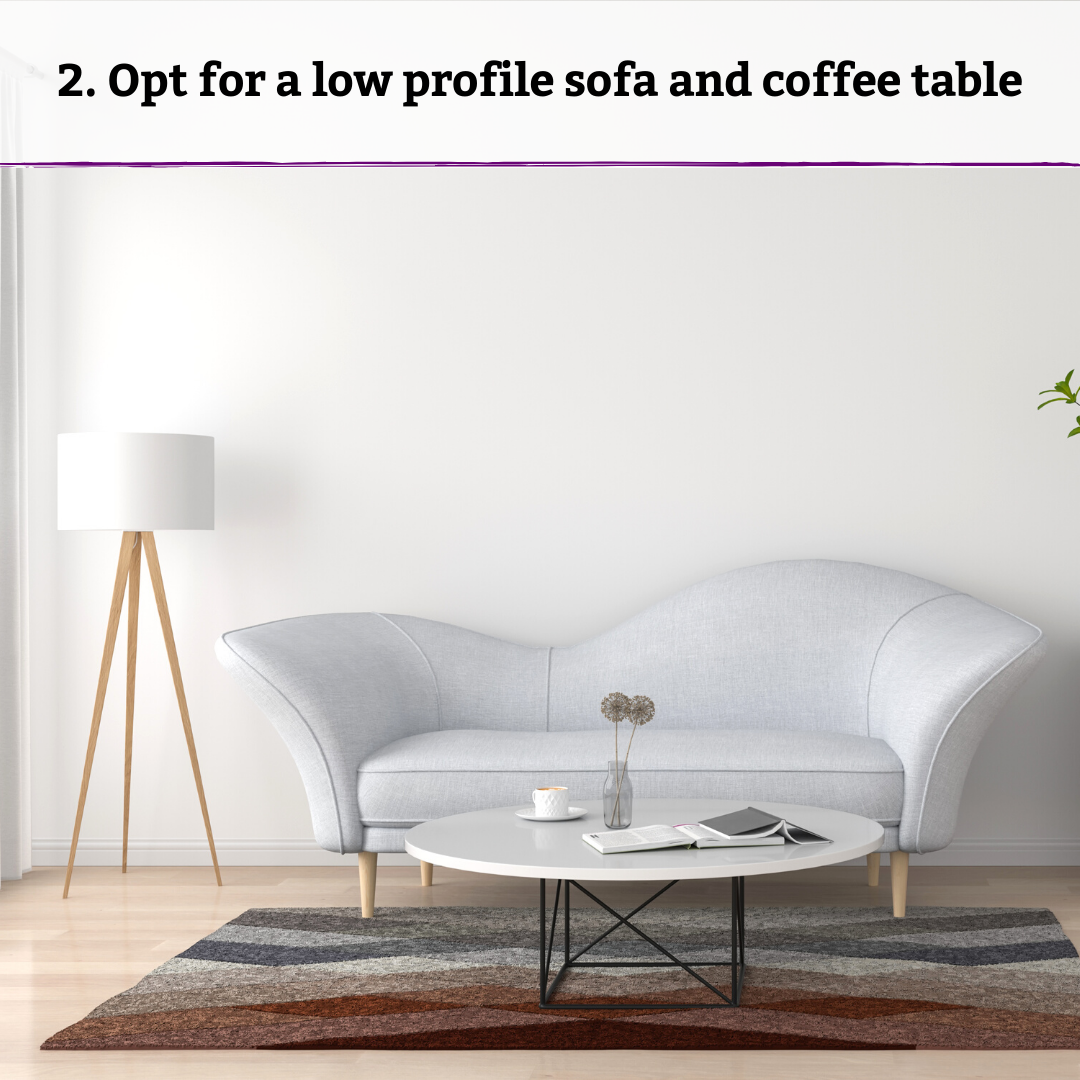 What are low-profile sofas and coffee tables? They're simply pieces that are lower to the ground. This will create a feeling of openness because low-profile furniture opens up more space on the top compared to regular furniture.
Embrace low-to-the-ground furniture, and you'll be surprised by how much space you can reveal! This simple trick will make your room feel airier and lighter.
Need some help looking for low profile furniture? Browse on Clavis Studio, a new platform to design and shop for pieces from your favourite brands! There are hundreds of options in various colours and styles, you'll find what you're looking for in a snap.
---
3. Keep furnishings white and simple
Similar to mirrors, the colour white also has reflective properties that can make your home airy, light, and spacious. White can make any cluttered and stuffy room much brighter too.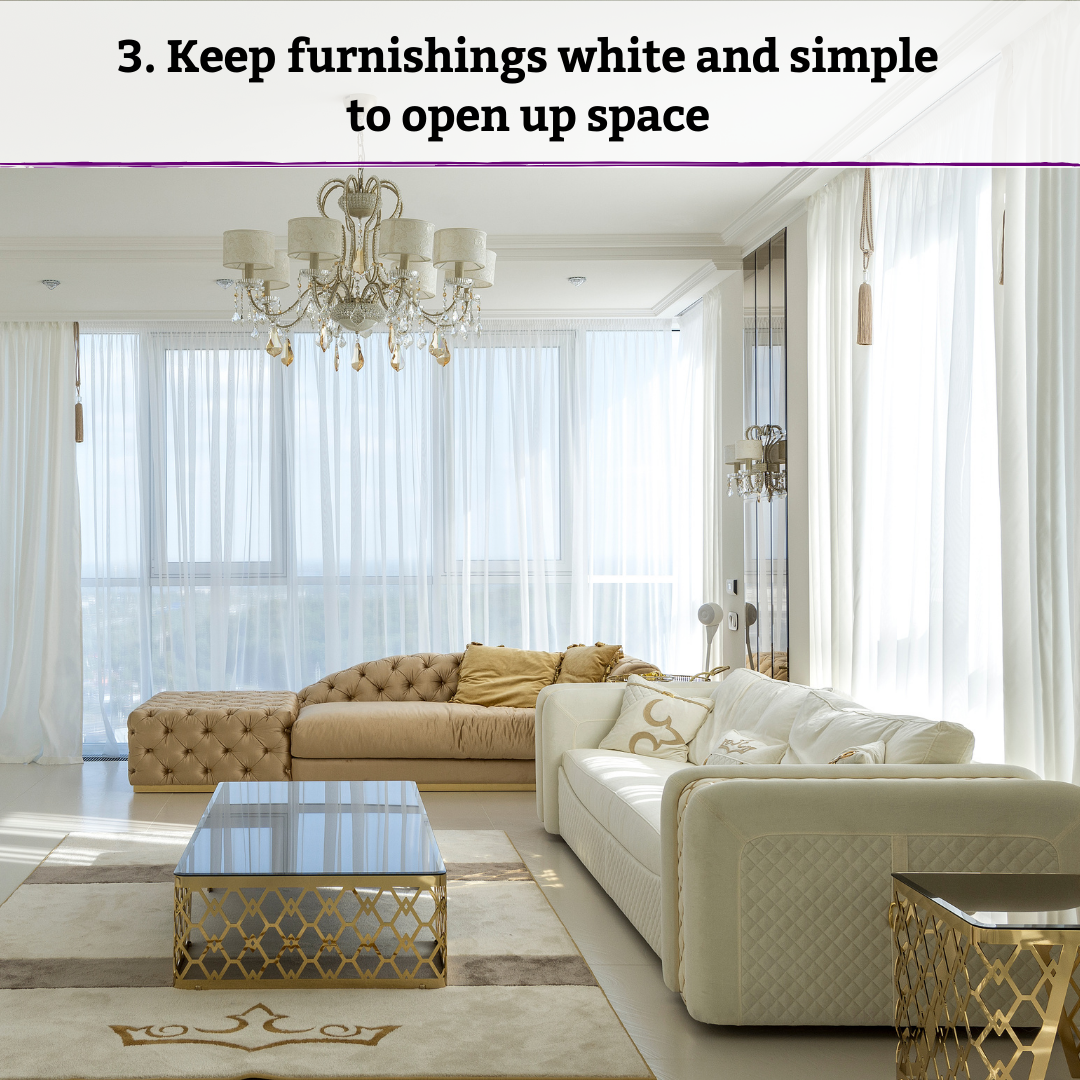 Paint your walls, swap out couches, or add white-coloured decors. They don't have to be stark white, any light neutral colour will do the trick!
White can visually simplify your room, but it's also essential to declutter any unnecessary items from your tables and floor to allow more space.
Thinking of switching to a minimalistic or Scandinavian style now? It takes no time at all to switch your style! Clavis Studio has themes to allow individuals browse through furnishings and furniture that suit the theme!
---
4. Let natural light pour in
Good lighting can make all the difference! Yet it's a simple trick that most people tend to overlook. Natural lighting will make any space look bigger, open, and refreshed.
Letting in more natural light can be as easy as keeping your windows wide uncovered, to create a sense of depth. Tie up any curtains to the side and keep them tucked during the day to allow every single ray of sun in!
---
5. New room? Plan ahead!
Last but not least, if you really want to refresh your style completely or if you just moved to a new home, then make a design plan!
Take some time to browse through Pinterest, Instagram, and Clavis Inspiration to save any themes or pieces of furniture that you like.
You can also design your home digitally on Clavis Studio. Plan out where your furnishings will go, visually see if they match, and if they will fit into your room. Design your dream space in minutes without leaving your seat!
No more clutter, cramming furniture next to each other or mismatching colours. Designing your home is as simple as 1,2,3.
---
Ready to enlarge your living room?
Living in a stuffed-up living room is no fun, especially when your home is supposed to be a relaxing oasis. Try these 5 steps above and create a plan, and you'll soon fall in love with your living room again.